Keep up to date
with our projects
Our Projects
To date we have concentrated our capital projects on primary school buildings, health centres, new vegetable and rice farming methods and in reforestation for both crops and biodiversity.
Much of this work has only been made possible through a close working relationship with our good friend Pere Emeric. With his guidance we have managed to engage with and gain the respect of the many villages and officials ensuring we have the necessary buy-in from the communities we are trying to help.
We have also supported major infrastructure projects in water and sanitation, school buildings and essential roads and bridges in the Outcast villages of Tanantsara and Nohona and the Leprosy villages at Farafangana and Vangandrano.
In the second largest city Fianarantsoa, we are supporting street children to get back into school and also providing much needed school desks and furniture as well as teacher, parent and family support. We are supporting 10 students annually with full bursaries at University and also provide lunch support for over 130 younger children.
We have supported St Joseph's school for severely disabled children and we also have a wide program of providing clean water and sanitation in outlying poorer villages.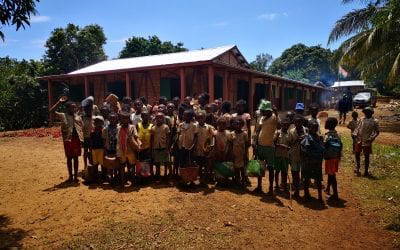 Over the past 2 years and despite numerous logistical problems TASC Madagascar and The ADSUM Foundation have in co-operation with Foyer Tanjomoha managed to complete a new primary school at Nohona...