[slideshow_deploy id='450′]
The Primary School at Maromby, near to the children's home at Tanjomoha, was in an appalling state.  TASC Madagascar, working together with the Adsum Foundation, have rebuilt the school buildings and provided a modern school for the local community.
The school opened in the summer of 2016.  TASC has been monitoring the final snagging works and they are now all completed.  All the schoolchildren have school books and the teachers are being paid and very enthusiastic.
This was TASC Madagascar's first major building project and we are now working on rebuilding a second school in the remote village of Salohy.  Have a look at the details on this website.
We visited the new school during the TASC Bike Ride and Supporters visit in November 2016.  .The buildings looked superb and final snagging has been completed.  But most impressive were the children.  About 360 pupils now attend the school every day; they are clean, fed and clearly loving their new school!  Some of the children at the kindergarten were keen to be photographed!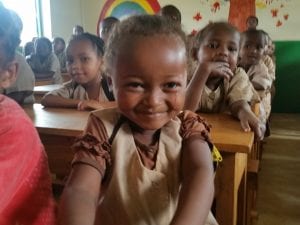 We are now setting up base-lining children's health so we can monitoring the improvements this school and community facility should bring.  For the Final Report on the building project please click on the link below.
tasc-appendix-1-maromby-details-nov-2016