Tanjomoha is a community on the outskirts of Vohipeno, the largest town in the area in which TASC Madagascar is involved. In 1986 Pere Vincent Carme established a home to give vocational training to physically disabled children. Since then the home has grown and diversified and now covers the key areas of health, education and self sufficient development with which TASC Madagascar is closely associated. Pere Emeric Amyot d'Inville came to Tanjomoha in 2000, and he and his team do truly inspirational work. In 2012 Pere Emeric was honoured by France with the award of Chevalier de Legion D'Honneur.
These pages cannot do justice to the love and care which is shown to everyone who seeks help there.
Home for disabled young people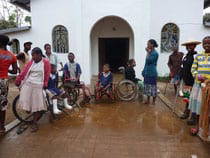 Children with physical disabilities are often abandoned by their families since there is no financial assistance for them and they are seen as a burden on parents already struggling to feed other children. At Tanjomoha over 120 disabled youngsters are taught how to live with their disability, and how to earn a living. They receive basic education in literacy and numeracy and then embark on a 3 year course to earn a trade. These include tailoring, embroidery and carpentry. When they have completed the course they are presented with a sewing machine or tool kit so they can start earning a living for themselves.
The "Foyer Deguise" – centre for orphans and vulnerable children
In Madagascar orphaned children are traditionally welcomed into the extended family, but due to extreme poverty an increasing number of children are being abandoned. About 60 orphans between aged between 2 and 18 live at Tanjomoha.  They receive full time education as well as much needed love and care to heal their emotional scars. Many go on to private school in Manakara. When they are ready to take charge of their lives they leave Tanjomoha to make their way in society.
The "Foyer de Carme" – boarding school for children from outcast villages
In the Vohipeno region  lives a clan that has been outcast from main stream society for centuries due to ancient ancestral prejudices. The Foyer de Carme accommodates about 30 children from these outcast villages, enabling them to attend local schools and to mix and make friends with children there. Gradually the historic barriers are broken down and these children are able to join in and contribute to their wider community.
The home for malnourished children
Severe infant malnutrition is a real problem in the poorest regions of Madagascar. Poverty, family breakdown and ignorance of basic rules of nutrition lead to many infants dying every year. This centre was established after the devastation of Cyclone Gretel in 1997 when severe malnutrition was prevalent. Since then the centre has been constantly busy saving numerous lives.
The TB Hospital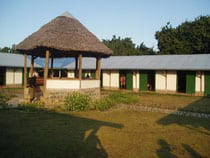 There is more information about the TB hospital in the web page on Tuberculosis. The new hospital, which opened in 2007, offers 90 beds in hygienic and (for Madagascar) comfortable conditions. The results have been remarkable.
The Cost
Doing all this takes about 70 staff from teachers to nurses to maintenance men. The centre distributes 6 tons of rice, 6 tons of corn flour, 4 tons of vegetables plus meat and fish every MONTH. Whilst 50% of the €400,000 annual budget comes from food aid programmes and large charities the other half comes from individual donors, either directly or through TASC Madagascar.
What is TASC Madagascar doing?
We are in very regular contact with Pere Emeric. He is well aware of our aims to improve quality of life in the longer term, and guides us on where our money can best be spent. He ensures that projects are completed to cost (or sometimes less) and reassuringly will tell us if money is not needed in a particular area so we can re-focus our priorities.
NOVEMBER 2016 UPDATE
The Annual TASC Bike Ride and Supporters visit spent a few days at Tanjomoha and was amazed at how much had been achieved in the last year.  As well as the daily task of feeding and caring for so many children, new covered disabled access ways have been installed throughout much of the site and a new access road constructed which will withstand the annual flooding and allow much easier access for wheelchair users and disabled children and adults.  Work on a new wood shed is well underway, and new indoor and outdoor play areas are very popular.   The photos tell the story very well: